At the moment, this blog has little purpose other than to keep people updated on my reviews and other activities (including one or two projects I won't mention lest they do not come to fruition in this economy). I have not yet created a page with an archive of all my previous reviews but I'm including here some of my recent reviews that are still on the main pages of the sites I contribute to. I get screeners from
Code Red
to review for
DVDBeaver
,
Severin
to review for
Lovelockandload
, and others that people kick my way for the aforementioned sites as well as
Cult Movie Forums
. I also review stuff as a creative outlet in between working on my thesis and my attempts at creative writing. In the future, each new review will probably get its own posting (with a provocative title heading, hopefully) or in pairs as they are published.
From Code Red, I recently reviewed their releases of the surprisingly engrossing seventies documentary
DERBY
and the little seen eighties low budget action drama
RUNNING HOT
with Eric Stoltz for
DVDBeave
r.
Robert Kaylor intended to shoot a simple documentary on roller derby but then found his focus in 23 year old Dayton Tire and Rubber employee Mike Snell who aspires to become the next roller derby sensation. Kaylor follows Snell - who wants to quit his job and train for the roller derby on the west coast even though his income supports his wife, child, brother, and parents - and his mentor Charley O'Connell whose material success inspires Snell. Code Red's DVD was sourced from a print provided by the UCLA Film and Television Archive and features some great extras including two commentaries and a black and white short film by Kaylor.
In
RUNNING HOT
,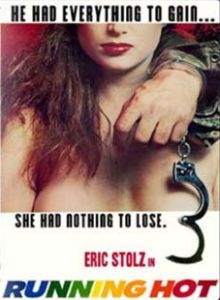 Eric Stoltz plays a wrongfully convicted killer on the run with the help of a beautiful stripper who has fallen in love with him through the television. As if finding the real killer isn't hard enough, they also have to watch out for a relentless cop played by Stuart Margolin who is not above a little kidnapping and police brutality to get his man.
An early effort by director Mark Griffiths (touted on the cover as the producer of TV's THE O.C.) that was surprisingly entertaining if you can get past the early eighties TV movie feel and a bland lead performance (co-star Monica Carrico is certainly worth watching and not just for her frequent nudity). Griffiths and his producer provide a running commentary and interviews for this obscure slice of eighties nostalgia.
I was suitably impressed by Luchino Visconti's slightly-soapy final film
THE INNOCENT
to review the new Koch Lorber DVD. Tullio (Giancarlo Giannini in a role meant for Alain Delon) is bored with his modest wife Giulianna (Laura Antonelli,
VENUS IN FURS
) and carries on an affair with wealthy widow Teresa (Jennifer O'Neill). When scandalized Giuliana takes a lover in young poet Filippo (Marc Porel), Tullio becomes jealous. When Giuliana then becomes pregnant, Tullio demonstrates the double standard of male and female infidelity and punishes her. Although the scale of this period piece has been considerably reduced compared to his unparalleled masterpiece THE LEOPARD, L'INNOCENTE features some ravishing period sets and costumes from some of Italy's top technicians and designers. The DVD transfer is only a slight improvement over the previous DVD releases and shows a startling neglect for a film of its pedigree.
Italy's Raro Video's English-subtitled DVD release of the director's cut
of Tinto Brass'
THE KEY
gave me an excuse to do a review of this highly enjoyable and sophisticated work of arty erotica (based on a novel by Junichiro Tanizaki). After twenty years of marriage, art professor Nino (Frank Finlay) decides to manipulate his modest Teresa (Stefania Sandrelli, THE CONFORMIST) into an affair with their daughter's fiancée Laszlo (Brass regular Franco Branciaroli) by piquing her interest in his private diary. Onto the game, she in turn manipulates him into discovering her own diary to read of the affair. While Nino finds himself aroused by his own jealousy (which will come as no surprise to any one who has ever seen a Tinto Brass film), his fascist daughter Lisa (Barbara Cupisti) reactions are equally unconventional. Raro's DVD is runs five minutes longer than the US DVD (itself longer than previous releases of the film) and features Italian audio and English subtites (sadly, it does not include the English dub track for which leads Finlay and Sandrelli provided their own dubbing). Originally picked up by The Cannon Group for release in the states, it was shelved due to its erotic content.
Gary Tooze at DVDBeaver passed along another recent Brass release for me to review for his site: COL CUORE IN GOLA (A HEART IN THE MOUTH) which is better known in the United States as
DEADLY SWEET
. The great Jean-Louis Trintignant plays Bernard, a French actor looking for work in London. When he finds his business contact dead at the feet of heiress Jane (Ewa Aulin of CANDY), instead of turning her in, they take to the London underworld in search of the real killers. The plot is slight but the oh-so-sixties photography, sets, and costumes are eye-catching and the pace riveting with Brass employing split-screens and rapid editing to mimic the comic book aesthetic. Storyboarded by famed Italian comic book artist Guido Crepax with an irresistable score and theme song by Armando Travajoli, it is highly recommended viewing. Cult Epics' DVD presents the Italian language version with English subtitles and an audio commentary by director Tinto Brass. An English dubbed version was prepared for export and turned up in the UK but its US version was re-dubbed and has not turned up since its theatrical release. An archive copy is available for flatbed viewing by appointment according to this
informative site
.
Severin sent me handful of titles for reviewing at the British
Lovelockandload
website including Patrice Leconte's seldom-seen-in-the-US arty erotic masterpiece
THE HAIRDRESSER'S HUSBAND
. I haven't seen many of Leconte's works but I managed to catch his great MAN ON THE TRAIN with Johnny Halliday and this film's Jean Rochefort at the
Tower Theater
a few years ago with some college friends. Rochefort plays Antoine, an old man with a fetish for getting his hair cut due to a pubescent crush he had on another hairdresser as a child (humorous flashbacks interspersed throughout show Antoine going for a haircut every chance he gets). As an adult, he becomes infatuated (or obsessed) with gorgeous hairdresser Mathilde (Anna Galiena of Tinto Brass'
SENSO 45
). By turns tragic and funny, THE HAIRDRESSER'S HUSBAND belongs to a trilogy of films Leconte made about erotic obsession which includes the equally good MONSIEUR HIRE and the problematic but still entertaining and erotic YVONNE'S PERFUME (also out from Severin).
Severin Film's sub-label Private Screenings (referencing the
eighties video label and cable TV presenter of softcore European erotica) initially released a few single DVDs of their titles at $29.95 each which was steep for barebones presentations of somewhat obscure films. Recently, they paired four of their films in sets of two for the same price including the modern LA RONDE adaptation
LOVE CIRCLES
which follows a pack of cigarettes around the world through a series of erotic encounters. Despite its premise and production value locations, the film falls flat and may only interest those nostalgic viewers old enough to have remembered the TV run of Private Screenings titles.
Severin achieved some amount of notoriety recently with the HD-remastered release of
THE SINFUL DWARF
, one of the sleaziest titles I've had to review. Couple checks into a boarding house run by a creepy woman and her equally creepy dwarf son. Little do the couple know but the woman launders drugs and the dwarf keeps sex slaves hidden in the attic. Released in the states by Harry Novak's Box Office International Pictures, Severin is the perfect label for it (they do call themselves "The Criterion of Smut" after all). The HD remastering of the print probably cost more than the film itself cost to produce but here it is for those of you in the mood (you'll need a shower afterward).
For The Cult Movie Forums, UK pal Marc Morris sent me a bunch of diverse titles to review and I'm still plowing through them. Adventurous fans might be interested in the clutch of neglected Turkish exploitation cinema titles hitting Greek DVD with English subtitles and cool extras. In
CELLAT
, architect Orhan turns gun-and-coin-filled-sock-toting vigilante when dope-smoking hippie thugs rape and kill his wife and sister. If the plot sounds familiar, it is. CELLAT is a violent and unintentionally funny rip-off of the Charles Bronson flick DEATH WISH. The further adventures of
KILINK
are chronicled in the double feature
KILINK VS SUPERMAN/KILINK STRIP AND KILL
in which the super villain battles a copyright-infringing-superhero with an S on his chest and then turns two rival gangs against each other in pursuit of nuclear microfilm and smuggled gold. Also from the Greek label Onar Films is the pairing of
THIRSTY FOR LOVE, SEX, AND MURDER and THE DEAD DON'T TALK
. The former is an endlessly amusing rip-off of the Italian thriller THE STRANGE VICE OF SIGNORA WARDH rife with jet-setting parties, cat-fighting gals in paper dresses, razor-slashing fiends, and cartwheeling heroes. The latter is a black and white old dark house thriller featuring a creepy caretaker who talks with a permanent echo and a zombie killer whose "evil laugh" will drive you up the wall.
Marc also sent me for review two of the latest releases from appropriately-named DVD label Naughty. In
JUSTINE'S HOT NIGHTS
, a "serious" film director accepts a contract to direct an erotic film (adult films were considered a legitimate genre in seventies France) and with the help of his wife and the possibly-imaginary Justine (after De Sade's heroine) imagine an series of erotic vignettes referencing Diderot, Emmanuelle, De Sade, Tarzan, Last Tango in Paris, and even Henry Kissinger, in search of inspiration. In
SCANDALOUS PHOTOS
, adult-star-turned-legit-actress Brigitte Lahaie and her boyfriend arrange for the heiress daughters of corrupt corporate execs to be photographed in compromising positions for purposes of blackmail with a trench-coated detective on the trail who discovers a lot more than just blackmail in the dive clubs of Pigalle and brothels of Paris.
Stay tuned for "The World's Greatest Obscene Phone Call" and "I want to photograph you nude in a field of wheat."